Under Navy funding, Creare developed a patented technology for preventing corrosion, especially in challenging maritime environments. Our Envelop® Protective Covers install like a common tarp but incorporate a unique composite structure, with layers that act synergistically to condition the environment beneath the covering to protect valuable assets. The resulting protection from corrosion approaches that of specialized preservation systems with greater convenience and at far less cost.
Creare originated the protective cover concept, then worked to carefully tailor the properties of the composite layers to achieve maximum performance. We refined our designs through a rigorous process of laboratory-scale tests, outdoor exposure to natural weather conditions at Creare, and finally installation of prototype coverings on Navy ships for extended testing at sea, where they delivered stunning performance under very harsh conditions. In 2002, Creare licensed the Envelop Protective Cover technology to a large manufacturing firm, which formed a new venture, Shield Technologies Corporation, to commercialize the product. Over 51,000 Envelop Protective Covers have been delivered to U.S. and allied military customers. Envelop covers are now installed on numerous Navy and Coast Guard ships and are used to protect military aviation and ground combat assets as well. In the civilian world, Envelop covers are in use on offshore drilling platforms, and Envelop cases for sporting firearms are available.
For information on purchasing covers, see www.envelopcovers.com.
For high-performance machining, we developed a unique cooling technology that eliminates the need for conventional flood coolants, while significantly enhancing machining performance. Creare's cryogenic machining approach uses a very small flow of liquid nitrogen (approximately 1/100 of conventional coolants) delivered through-tool to enable high-speed, environmentally friendly manufacturing while enabling a several fold increase in tool life and a doubling (or more) of processing speed. The technology has been licensed to 5ME, who deliver the Cryogenic Machining System consisting of specially designed tooling and tool holders for easy retrofitting on existing machines.
Related links: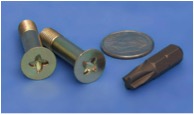 Creare designed a lightweight, high-torque fastener that meets aerospace specifications. Our design provides extremely high torque capability with minimal depth. The design also efficiently compensates for paint buildup without degrading torque performance and allows installation of fasteners at odd angles without high stress concentration. Tool life is extended and resistance to tensile fatigue fracture is improved when used with high-load pulse tools. The Phillips Screw Company licenses Creare's design for commercial sale as the MORTORQ® high performance drive system. We were awarded a patent for the recess pattern in 2001.